ARCHOS 80 COBALT
Release Date: December 2012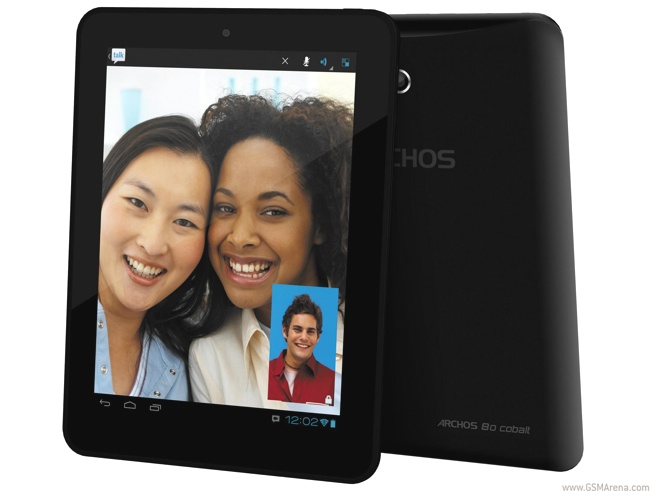 Specs
CPU: Dual core @ 1.6 GHz with Quad core GPU
RAM: 1GB
Display: 8" (1024 x 768 pixels)
Internal Memory: 8gb
External Memory: Micro SDHC slot (up to 64gb)
Ports: Micro USB, headphone jack
Camera: Front 0.3mp / Back 2mp
OS: Android 4.0
Dimensions: 153.5 x 203 x 11.5 mm
Weight: 470g
Pros:
* Price - I got mine for £49 = 3200 pesos
* CPU - very fast and smooth with quad core graphics
* Brand - Archos has been making tablets for years
Cons:
* Screen - LCD panel is low quality but usable
* No HDMI out, No bluetooth, No GPS
* Hard to get accessories and developer support
Impressons
* For the price, you cannot match the specs even with unknown Chinese tablets
* Great performance, very fast and smooth. Will play heavy games with ease.
* Battery life is acceptable, all day battery with regular use
* Great for beginners of Android and for children use because of the price/performance
* Most people won't use HDMI out, GPS, and bluetooth so not a major issue
* Has 2 cameras. Although not the best, they take decent pics
* Decent build quality, good design. Does not look cheap.
* Tablet UI unlike Nexus 7's phone UI.
* ICS is adequate for everyday use and is compatible with most apps from the store.
* I currently own a Nexus 7, Galaxy Tab 2 7.0, and Galaxy Note so please free to ask questions about comparisons
Recommended Apps
* Screen Adjuster - add green/blue +5 and it fixes the colours, you can also lower brightness even further for night reading (free)
* Go Launcher HD - change the UI with lots of personalisations available (free)
* HD widgets - widgets for weather, time/date, etc.
* Camera Zoom Fx - more camera settings but still crap lens
* Airdroid - transferring files wirelessly via wifi
* Quickpic - better gallery app (free)
* Volume+ - fix low volume/base/echo
* Bling Bling LED - use your tablet as a sign (free)
* MX Player - play almost any video format with lots of options (free)
* Distro - free technology magazine
* Kingsoft Office - open/edit/create word, excel, powerpoint. pdf files (free)
* News - BBC news app (free), Flip (free)
* Games - Muffin Knight, World of Goo, Beat Hazard Ultra, Jetpack Joyride
* Others - Sonos controller app, TV remote app, Reddit is fun, IGag
Links
Official product page:
<click here for link>
Video preview:
<click here for link>
Using the Youtube app:
<click here for link>
Also for those asking:
* NO HDMI port
* NO bluetooth
* NO GPS
* NO Simcard slot
How to fix/lessen some problems:
* Screen Adjuster app (free) - fix discoloration/ artifacts (set +5 green, +5 blue, turn on to apply)
* Volume+ - make sound louder and fix base/echo
* Wifi turns off - go to Settings > wifi > tap 3 dots on upper right corner > advanced > Keep wifi on during sleep > Always
Here's a link for Flash
<click here for link>
just download and install.
Make sure you allow side loading of apps by going to Settings > Security > Unknown sources > allow installation on non-market apps
Here is a link on how to ROOT the tablet
<click here for link>
Needs to update the program before rooting and use 32bit version of windows.
Comparison
-- edited by gx3k on Dec 28 2012, 07:40 AM